Aadhaar card updation for children: Biometrics, online appointment, other details
Aadhaar cards are must for everyone. An individual of any age can apply for Aadhaar, even new-born and kids can apply for the same.The 12-digit identification number, which is issued by the Unique Identification Authority of India (UIDAI), can be used as an identity (ID) proof.
The Aadhaar enrolment for children is quite similar to that of adults. Parents will have to go to the nearest enrolment centre and fill in the enrolment form. The Aadhaar card for a child will be issued free of cost. There will be no biometric data captured in case of children below 5 years of age
A child's Aadhaar number will be issued by taking into reference the UID of the parents. However, it will be required for the child upon turning 5 years and 15 years to update his/her demographic data -biometrics of ten fingers, facial photo, and iris scan.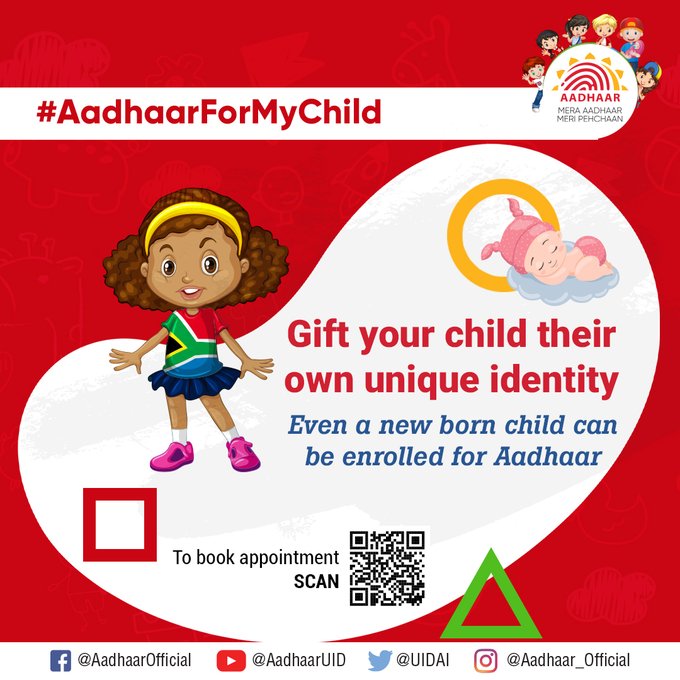 "Remember to take your child to nearby Aadhaar Kendra for the mandatory biometric update at age 5 years and again at age 15 years. This is important to keep your child's data updated and makes it easy for the child to use Aadhaar when required, UIDAI said in a tweet…Read more>>
Source:-livemint
Share: